Affordable Auto Storage for "Toy" Owners in the Ozaukee County Area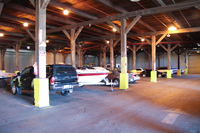 Summer is fun time in Ozaukee County. It's when boats, specialty cars, RVs and bikes come out of storage. Some people call these "toys." You might call them something else. Regardless, you're just glad to be back out on the road or water.
Winter always returns, though. You need a place to keep your boat or vehicle. Look no further than Hansen Storage for the best auto storage and boat storage value near Ozaukee County.
Just 100 yards from a Milwaukee River boat launch, our Water Street facility is the safe choice for Milwaukee indoor parking. With spaces for nearly eighty vehicles and boats, you'll find a comfortable spot for your prized wheeled (or floating) possession.
Why should parking indoors in Milwaukee be expensive? Our rates start at just $100 a month. Extra-large spaces are available. Electricity, too.
You can visit your auto or boat anytime. Our Milwaukee vehicle storage facility is accessible 24/7 for customers via a key card. Security cameras keep watch inside and out. Interior lights turn on automatically. If you decide to take a spin, the garage door closes behind.
Long-term storage is an extra value. For those needing classic car storage in Milwaukee, for example, the last two months are free with a signed one-year lease.
Whether your ride has four wheels, two wheels or none at all, Hansen Storage is your home for boat and car storage near Ozaukee County. They'll be safe with us.
We don't consider them "toys," either.
Contact us to discuss how Hansen Storage can provide storage for your boats, antique vehicles, RVs and bikes.