Finding a Dock Slip for your Boat near Horns Corners
Your boat is a source of enjoyment, relaxation and excitement. It's where stress fades away and great memories take its place. You – and your boat – deserve a greater Horns Corners area marina that's secure, convenient and accessible 24/7.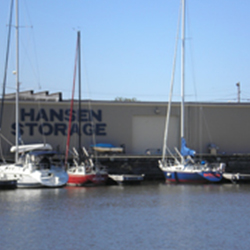 If you agree, find your Milwaukee boat slip at Hansen Marina. You'll have a path to Lake Michigan clear of bridges or any obstructions. Our Milwaukee River slip rentals near the Horns Corners area are 20 feet wide and can accommodate crafts up to 45 feet in length.
No other Milwaukee River marina close to  Horns Corners offers the amenities you'll find at Hansen Marina. Use our complimentary water and electricity. Stay in-touch with wi-fi throughout. Clean up after a day on the water with showers and laundry, then relax on the dock chairs and fire up a grill. We even provide gas for the cooking.
Additional activity awaits close by. Hansen Marina is within walking distance of the Summerfest grounds, Historic Third Ward and dozens of restaurants, stores, theaters and art galleries.
Cast off from your Milwaukee boat slip, just a short drive from  Horns Corners, knowing your vehicle is safe from parking tickets or worse. Our on-site parking lot is well-lit and monitored by surveillance cameras.
You can come and go anytime at Hansen Marina via an access card to our highly-secure facility. Feel free to use our meeting room for parties or other meetings. Mini-storage units are available for your fishing and boating gear.
Wondering about your boat while you're out of town, or during inclement weather? Just log onto a computer and use one of our dock cameras to check up.
You get all these amenities at a non-luxury price, too. Hansen Marina is the best dock slip value in Milwaukee - so close to  Horns Corners . You'll find that your boat isn't tied up at just another boat slip serving Horns Corners – it's at a place you feel good about visiting. Isn't that what memories are made of?
Contact us to discuss how Hansen Marina can provide a slip rental and storage for your boat.
Marina Entrance

/condo/uploads/Front-Door-Marina-Only-051011.jpg

Welcome to Hansen Marina!

Hansen Marina

/condo/uploads/hansen-marina-006_001.jpg

Join our boating community.

Hansen Marina

/condo/uploads/hansen-marina-007.jpg

Dock your boat here this season.

Hansen Marina

/condo/uploads/hansen-marina-008.jpg

Enjoy the location.

Riverside Dock Platform

/condo/uploads/Riverside-tables-river-SOUTH.jpg

Relax! Picnic tables, grills and ice available for your use.
Click the text above to hide