Hansen Storage Company Milestones 
1891
Before their warehouse is even completed, Theodore and his son, Guido, join the newly formed American Warehouse Association, a nationwide group of professional warehouse owners and managers who would help regulate the public warehousing business.
1906
Congress passes the Uniform Warehouse Receipts Act. State government begins licensing warehouses that meet certain requirements of the Act. Hansen Storage Company receives license #1 from the State of Wisconsin.
1912
Guido J. Hansen becomes president of the company following the death of his father. Sharing his late father's confidence in the future of the storage and distribution market, Guido begins aggressively purchasing more warehouse space. The additional space would be utilized during the United States' participation in World War I.
1920
Four more warehouses are purchased. Shares of preferred stock are sold. At the end of the year, the company's balance sheet shows land and buildings appraised at $1.069 million, making Hansen Storage Company "The Million Dollar Warehouse Company." As the decade progresses, the company controls almost all of the near-downtown warehouse property and railroad dockage on the east side of the Milwaukee River. 
1931
Theodore L. Hansen, Guido's son, assumes leadership of the company. 
1933
During the Great Depression, banks become more restrictive about credit requirements. Hansen Storage Company begins offering field warehousing, in which warehouse receipts for onsite inventory could be used as collateral for bank loans. It becomes a major income generator for the company during a time when other storage companies falter. 
The 1940's
Wartime support means as much as half of warehouse storage space is utilized by the U.S. military and government. In addition, Hansen Storage Company manages a Navy supply depot. Reorganized warehouse operations in support of the war effort is a precursor to the way goods would be produced, shipped and stored in the post-war economy. Ted realizes Hansen Storage Company needs to upgrade its facilities and expand its real estate platform to remain competitive in the decades to come. 
1952
Ted believes the Interstate Highway system, still in its infancy, will transform the food industry. Anticipating Milwaukee's food wholesalers will move out of downtown, Hansen Storage Company builds a single-story high bay warehouse on land purchased north of downtown Milwaukee. It features temperature and humidity controls, and later, truck and rail docks to serve grocery wholesalers. 
1959
Kohl's, a growing chain of grocery stores, moves its distribution facilities to Wauwatosa. Hansen Storage Company purchases 10 acres of nearby farmland. 
1960
The first section of what would become the area's major public food industry warehouse is built.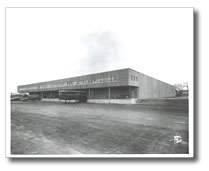 1961
Hansen Seaway Service, Ltd. begins operating a marine terminal on Lake Michigan for ocean-going vessels. Forklifts, pallets and other cargo-handling equipment are supplied by the company to offload freight and get it to the importer. The terminal has a huge impact on the city - allowing local industries to bid competitively for international business, creating many jobs in the Milwaukee area. 
1966
A large refrigerated terminal building is added to the Hansen Seaway Service location. 
1967
Hansen Seaway Service doubles in size after replacing the operator of another terminal along the piers. 
1972
Hansen Seaway Service becomes the first operator on the Great Lakes, and maybe the nation, to install a shrink-wrap machine. This makes it possible to unitize cargo for easing loading on to vessels. 
1973
Hansen Storage Company introduces a freight consolidation service, one of the first in the industry. It allows for grocery producers to ship products by rail car lots, then contracting with the company to consolidate the goods with other products to be forwarded by truck to food brokers and wholesalers. 
1974
The warehouse in Wauwatosa proves to be a strategically vital location. Access ramps join the property with the newly built freeway. Corporate and administrative offices move to a new addition at the Wauwatosa location without any serious disruption to business.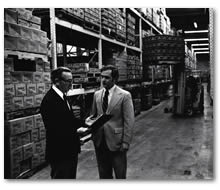 1976
Ted is named chief executive officer as his sons, Bill and Ted Jr., take over the day-to-day operations of the company. Bill Hansen is named company president, and Ted Jr. becomes vice president of sales. 
1978
Hansen Seaway Storage remains profitable, but also time-consuming in the travel demands of company leadership. It is sold to allow for greater focus to other emerging interests. 
1981
With trucking deregulation, the company launches a subsidiary to focus on contract trucking. A substantial fleet is built, half of which has refrigeration. Dozens of service points are created within a 150-mile radius of Milwaukee. 
1982
The first long-term lease is signed. A large printing company signs a three-year agreement for 20,000 square feet of warehouse space in the Wauwatosa warehouse. Hansen Storage Company redirects its efforts toward renting space for longer, fixed periods in addition to offering weekly or monthly leases. 
1983
Awarded a contract by the United States Department of Agriculture for storing cheese, Hansen Storage Company quickly converts one end of the Wauwatosa facility into a 75,000 square foot refrigerated warehouse. Encouraged by the success of the refrigeration conversion, the company cools the eastern section of the same building for other customers. 
1986
 First freezer space for meat storage is installed to better serve longtime customer, Kohl's supermarkets. 
1987
Perishable commodity management helps customers fulfill small size orders. Hansen Storage Company employees pick, process and ship items from a large and diverse inventory base held in one of Hansen's warehouses. 
1989
Hansen Storage Company acquires Wisconsin General Cartage, a fast-growing common carrier. This allows the company to offer warehouse dockage for truck and rail where freight could be transferred directly to customers. By bypassing storage, the service appeals to manufacturers and suppliers who schedule production based on "just-in-time" deliveries. 
1991
Ted chairs his last board meeting and reminds everyone of the company's guiding principles: avoid debt, choose good employees, give value to customers and act honorably. He dies two months later, having dedicated 60 years to the growth and development of the company. 
2000 and beyond

Traditional warehousing is waning at the close of the 20th century. Industry could no longer afford to produce and store large inventories that could become obsolete or spoil. Goods had to remain in motion along the supply/distribution chain rather than sitting idle on pallets. Reflecting on these trends, Bill conceives a strategy to retain warehousing and distribution and also add built-to-suit warehouses for lease.
As it exists today, Hansen Storage Company would not be recognizable by its founder. At critical junctures in its history, company leadership had the will to reinvent the company into a newer, more viable enterprise. The platform may continue to evolve, but principles of integrity and customer service will remain constant.